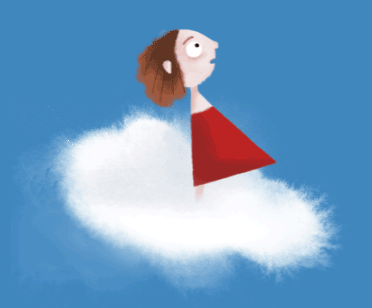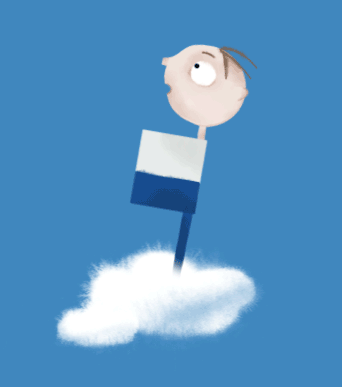 «Gaagelingen» ist ein Königinnenreich weit über den Wolken. Die Untertanen Frau Triangel und Herr Vierangel leiden unter dem Hin und Her ihrer kleinen Welt und würden ihre Königin Po gerne loswerden. «Gaagelingen» wird mit Feuerwerk in die Luft gesprengt, treibt als Floss auf stürmischer See und driftet schliesslich als Raumschiff durchs Weltall.
2015 /Drawing Animation / 2D Computeranimation / 11 min / SCHICK Productions
«Teeter-Totter-Town» is a Queendom high above the clouds.
The subjects, Triangle and Fourangle, suffer from the ups and downs of their little world and would like to get rid of their Queen Bum. «Teeter-Totter-Town» explodes in an array of fireworks, turns into a raft afloat on stormy seas and finally
drifts as a starship through outer space.
Credits:
Produktion: SCHICK Productions
Regie: Maja Gehrig
Script: Maja Gehrig / Pamela Dürr
Schnitt: Fee Liechti
Musik: Kaspar König
Sound: Peter Bräker
Animation: Maja Gehrig / Stefan Holaus
Compositing: Maja Gehrig / Stefan Holaus
Stimmen CH / DE: Fabienne Hadorn / Raphael Clamer
Stimmen E: Celeste Toussas / Dustin Rees
In Koproduktion mit SRG SSR / SRF
Mit Unterstützung von:
Bundesamt für Kultur, Sektion Film / Zürcher Filmstilftung / Kulturförderung Kanton St.Gallen - Swisslos / Migros Kulturprozent
Screenings / Preise:
Solothurner Filmtage 2015
Monstra Animation Film Festival, International Competition, 2015
Golden Kuker, Sofia, Bulgaria 2015
Internationale Kurzfilmtage Oberhausen 2015, Kinderfilmwettbewerb
Athens Animfest 2015, International Competition
Annecy Animation Filmfestival 2015, International Competition
Animamundi 2015, Childrensfilm Competition
Fantoche 2015, International Animation Film Festival,
International Competition, Swiss Competition, Childrensfilm Competition
2015 Monterrey International Film Festival, Best International Animated Short Film
Milwaukee Film Festival 2015, International Competition
Animatou 2015, Swiss Short Competition
KROK, International animated Filmfestival, non competitive
Anibar AnimationFsetival, International Competition, Tirana, Albania
3D Wire, International Animation Filmfestival, 2015, Segovia, Spain
Shnit International Shortfilmfestival 2015, Bern, Switzerland
Publikumspreis Audience Award Solothurner Filmtage 2015
Gehrigtrick & Sohn . Werikonweg 6 - 8006 Zürich .+41 (0)76 566 8008 . info@gehrigtrick.ch